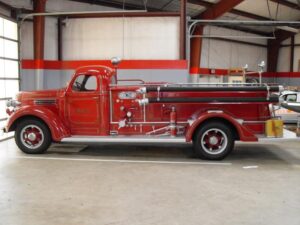 The Bellville Volunteer Fire Department has a long history. Engine 2  is a big part of that history. This 1947 International was built by Simms Fire Equipment Company San Antonio Texas. Engine 2 pumped at the Austin County courthouse fire in 1960, it was the newest piece of pumping equipment at the time. This is the second Engine purchased by the department. Engine 2 was restored by the Texas Department of Corrections in the 80's and it still makes parades.
The first "fire Wagon"  consisted of a hand-drawn vehicle equipped with six ladders, two long poles with hooks, two axes, two picks, twenty rubber buckets, and six large blankets, used to keep roofs near a fire from burning.  This wagon had a tongue, and the men pulled it by a rope, which was on a windless.  It was also equipped with oil lamps and a bell attached under the front axle. This bell was a alarm to warn people of the coming of the fire wagon, and rang from motion of the wagon.  Later horses were used to pull the wagon.
In 1907 wheelwright E. O. Finn built a fire wagon with a 200 gal water tank and a four man hand pump this along with 50 feet of hose would provide a strong steam of water. It was necessary to keep the water tank full with a bucket line.  In mid September of 1907 the fire department turned out in force to test the new apparatus.  The stream from the hose easily ascended ten feet higher then any of the two story buildings on or adjacent to the sqaure.
The fire company in 1916 purchased its first piece of motoized equipment, a chemical auto truck.  The vehical was discribed in the local paper Augest 24, 1916, "The machine is equipped with two 30 gallon seamless drawn teel tanks with Victor seal acid receptacles. Each tank is equipped with pressure gauge, relief valve and dumping device, and connected to by pass valve and 2 1/2 inch hose connection, whereby one tank may be filled while the other is being discharged, or water may be forced through tank and hose, and furnish an efficient stream. It is also equipped with a 16 foot inside extension ladder, a crowbar and a fire axe." The cost of the machine was $1500. and was necessary for the department to raise another $300 for shipping.
In 1923 a Ford model TT truck was purchased to be built into a new pump truck. A pump was mounted on the vehical and barrels of water were carried on the truck. Water would have to be taken out of the barrels with a bucket and poured into a reservoir for the pump.
When the first water mains where laid in 1928 it made a readily available water supply. water hose was needed as well as a truck to carry the hose. In 1931 the fire company purchased from F. W. Schurnburg, Inc., the local Ford dealer, a Model A Ford chassis for $609.25. this truck, which carried 1,000 feet of hose, along with the Model T pumper purchased in 1923, was the first really adequate fire protection the citizens of Bellville were to have.
The first modern pumper truck owned by the department was purchased by the city, and turned over to the department April 1, 1936.  Designated Engine No. 1, this truck an International had a 300 gal. water tank.
Engine No. 2 was purchased in 1948 at a cost of $3355.50. Built on the International chassis.
In 1962, Engine 3 was purchased at a total cost of $16,101. Delivered October 3, 1962, was a 400 gallon pumper built on a Ford chassis, built by Simms Fire Equipment Company San Antonio, Texas.  The need for purchase of this pumper grew critical when the state condemned the old Engine No. 1 purchased in 1936.
Engine 4, purchased in 1972, was built on a Ford chassis by Fire Fox fire Equipment Corp.  It had a 750 gallon tank with a pump that delivered 750 gpm. This piece of equipment, costing 20,878.98, was paid for with the proceeds of the annual fund raisers.
Information from Bellville Times by Isabel Frizzell